ClearSky Health, a premier rehabilitative healthcare provider, today was welcomed to Baytown, Texas, as staff and community members broke ground for a new 36-bed medical rehabilitation hospital.
ClearSky Rehabilitation Hospital of Baytown will provide specialized rehabilitative services to patients living with disabling injuries or illnesses such as strokes, brain injuries, hip fractures, spinal injuries, Parkinson's disease, multiple sclerosis, and other medically-complex conditions like COVID-19. The facility will be located at 150 Blue Heron Parkway.
At the groundbreaking ceremony, Baytown Mayor Brandon Capetillo welcomed ClearSky Health to the community on behalf of himself and City Council. "We're always excited to see access to healthcare continue to increase in Baytown," he said. "We are certainly happy to have the caliber of ClearSky Health as a new addition to our healthcare facilities for our residents. We know ClearSky Health has a proven track record of always working with the local community, so we look forward to benefiting from those partnerships."
Darby Brockette, CEO of ClearSky Health, confirmed the organization's commitment to Baytown. "We will be a part of the community, with staff living here, buying houses, purchasing cars, and more" he says. "You are already blessed with great healthcare in the area, and we want to contribute so you don't have to go to Houston for continued care. We'll be here to provide rehabilitative services to those who have left an acute care hospital, but need more time to heal before going home. It's our focus to get our patients home and back to what they enjoy doing."
Brockette added that 80 percent or more of the organization's patients do return home after treatment in one of its facilities.
Referring to ClearSky Health's proven track record, Capetillo said that Baytown has a proven record as well. "We get 'Why Baytown?' a lot," he said. "Everyone that has come to Baytown to establish, maintain, or sustain a business has hit it out of the ballpark. I think Baytown is on a great course, and with ClearSky Health as a new addition, they will continue to be a part of that success."
Following remarks by Capetillo and Brockette, ClearSky Health was presented with certificates and welcomed to the area by the offices of US Congressman Brian Babin, State Representative Briscoe Caine, and Harris County Precinct 2 Commissioner Adrian Garcia.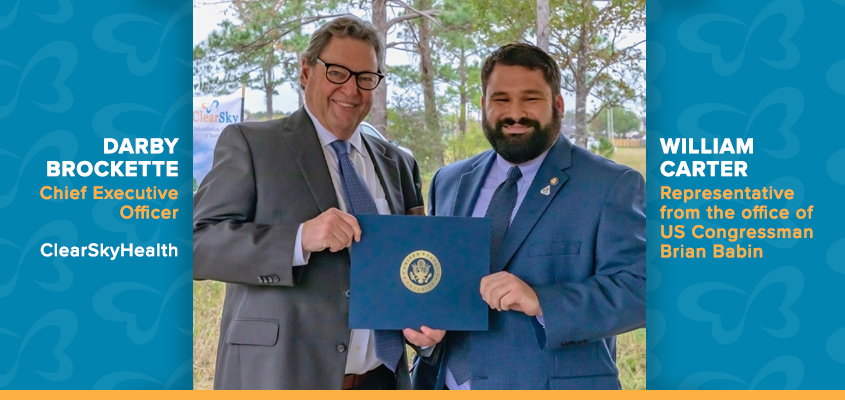 ClearSky Baytown will treat about 650 patients annually and will bring 100 new healthcare-related jobs to the area. It is expected to open in Summer 2023.
ClearSky Health currently owns and operates hospitals in Texas, Louisiana, and New Mexico, with plans to open new facilities in Arizona, Florida, Kansas, Ohio, Wisconsin, and additional Texas locations.